One of the most important characteristics of a leader is the ability to think strategically and tie strategies to results. Most leaders believe they are strong strategic thinkers without fully understanding the skills involved and benefits to the leader, the team, and the organization when you are adept at this essential leadership quality.
Join us for a fast-paced, experiential, information packed, session. We will define our terms, explore and assess your skills, and make an action plan for building on your strengths and adding to your toolkit.
Participants will:
Gain a deeper understanding of strategic thinking skills including — anticipating, challenging, synthesizing, aligning, planning, and decision-making.
Burnish or learn the art of asking strategic (and tough) questions.
Learn to speak the language of strategy.
Be motivated to carve out time for strategic thinking.
Know how to tie strategy to action and desired outcomes.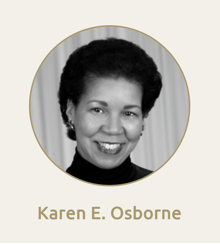 Karen believes in the power of philanthropy, generosity, and service. She built her career around these passions not only as a major and principal gift officer, speaker, trainer, teacher, consultant, and coach but also as a donor, volunteer, and board member. Nationally and internationally recognized, Karen receives invitations from all over the United States and the world. For 18 of her 42 professional years, she held leadership positions at colleges and universities. For the past 24 years, Karen served first as President and now as Senior Strategist at The Osborne Group. For the past eleven years, Karen served as an adjunct faculty member for Johns Hopkins University graduate certificate program in nonprofit management. Karen enjoys a rich volunteer life. The Council for the Advancement and Support of Education (CASE) awarded Karen the Crystal Apple for Outstanding Teaching and Public Speaking and the Ashmore Award for Outstanding Service to the Profession. She serves on the board of Easterseals Florida, continues to volunteer for CASE as well as local charities. Karen is also a novelist. Getting It Right, Akashic Books was published in June 2017. Her new novel, Tangled Lies, Black Rose Writing, launches July 22, 2021.
This 90-minutes online webinar is organized within a series of three webinars on 22 April 2021 at 17:00 (CET).