Webinar: Leadership And Fundraising
As a leader or aspiring leader, your jobs may not specifically include fundraising, but everything we do as nonprofit/NGO leaders influences the success of fundraising in our organizations.  No matter what leadership role you play now or hope to play, it is important to understand fundraising and to participate in it to the extent required by your organization.
Your leadership in fundraising is important in these ways:
Increasingly, effective leadership of nonprofits/NGOs is as strong an influence as belief in the mission on the willingness of individuals and institutions to be donors
Understanding the donor development process is critical in the leadership and management of staff and board whose responsibility it is to do the fundraising
You need to be a confident partner of those responsible for fundraising with the ability to make an ask or support the asking process
As a leader, you are part of the development team that develops relationships in your community to benefit those you serve
Learners will gain the following from this session:
The importance of mission, vision and values in overall leadership and particularly in leadership and fundraising
Understanding of the values basis of philanthropy, development and fundraising as a motivator for giving and for getting donors involved, particularly the "next generation" donors in our communities
Understanding that fund development is a multi-step process designed to engage your community in the shared values, vision and mission of your organization that are the basis for a lasting relationship
The role leaders at all levels play in being stewards to donors:  participating in outreach and activities that ensure the long term engagement of donors based in actions of gratitude
Strategies for modelling organizational leadership in relationships with donors, fundraising staff and volunteers including board members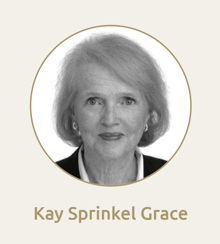 Kay is a widely respected consultant to nonprofits and NGOs.  The author of seven books on fundraising and leadership of the nonprofit sector, she speaks globally on these topics.  She has taught leadership of the fundraising process to countless boards and staff members as well as at conference sessions throughout the US and in Prague, Bratislava, Warsaw, Tbilisi, Moscow, London, Paris, Stockholm, The Netherlands and Australia.
Her leadership teaching is strongly influenced by her experience, particularly in working with organizations in transition, as well as by her mastery of leadership principles from business and public sector leaders including John W. Gardner, Peter Drucker, Jim Collins and Jim Kouzes.  Her undergraduate degree is in Journalism and her Master's degree is in Curriculum and Teacher Education, both from Stanford University.  She has worked professionally in the nonprofit/NGO sector for more than 35 years.
This 90-minutes online webinar is organized within a series of three webinars on 13 May 2021 at 17:00 (CET). 
UP